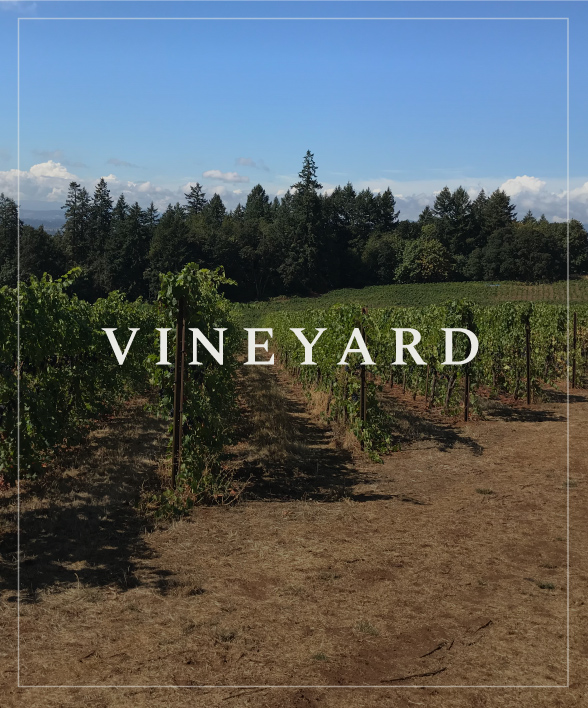 Planted in 1990
Winter's Hill Estate began when Peter and Emily Gladhart planted 20 acres of vines in 1990. 35 acres of Pinot Noir, Pinot Gris, and Pinot Blanc now provide all of the grapes used to make Winter's Hill wines.
Our Dundee Hills Vineyard
Our vineyards are located in the Dundee Hills, where Oregon's modern wine industry began in the late 1960s. We are fortunate to have ideal conditions for a vineyard. Elevation ranges from 525-750 feet above sea level, with a gentle Southern slope. Our soil is Jory, the most sought-after soil type for producing premium wines in Oregon. Our property borders several of Oregon's best-known vineyards, including Domaine Serene, Stoller, Eyrie, and Vista Hills.

Walk the Vineyard Rows
Visitors are welcome to walk down to the vineyards. Wear sturdy shoes, and remember, the walk back is all uphill!
On your walk you will also see our restored Oak Savannah, a critical and rare habitat in the Willamette Valley.
A Personal Touch
Luciano Reyes manages the vineyard along with a team of long-term employees who perform the multitude of tasks necessary to produce exceptional fruit.
All of the pruning, training, shoot thinning, crop reduction, and multiple passes of tucking are done by hand. Harvest is also done by hand, using small clippers and five-gallon buckets. This means that each of our more than 42,000 plants is touched by a human hand more than 10 times a year.
Two tractors are used for cultivation, mowing, spraying, hedging, and transporting the harvested grapes to the winery. A total of 435 hours of tractor usage per year gives you lots of time to think.

More About the Habitats
In the development of our Dundee Hills vineyard, we have been careful to preserve important stands of Oregon White Oak and Douglas Fir woodland. These provide essential habitats for the many species of wildlife that share the Dundee Hills with us.
We have also undertaken large-scale efforts to restore heritage Oak Savannah, and re-establish native Willamette Valley prairie. The Oregon Department of Fish and Wildlife and Yamhill Country Soil and Water Conservation Department have both provided us with technical advice and financial assistance in recognition of the importance of this work. We are also pleased to be named to the Willamette Valley Birding Trail, additional recognition of the diverse and valuable wildlife habitat preserved at Winter's Hill.
As a result of the good stewardship of our land, Winter's Hill Estate has been certified by SalmonSafe and LIVE since 1999.