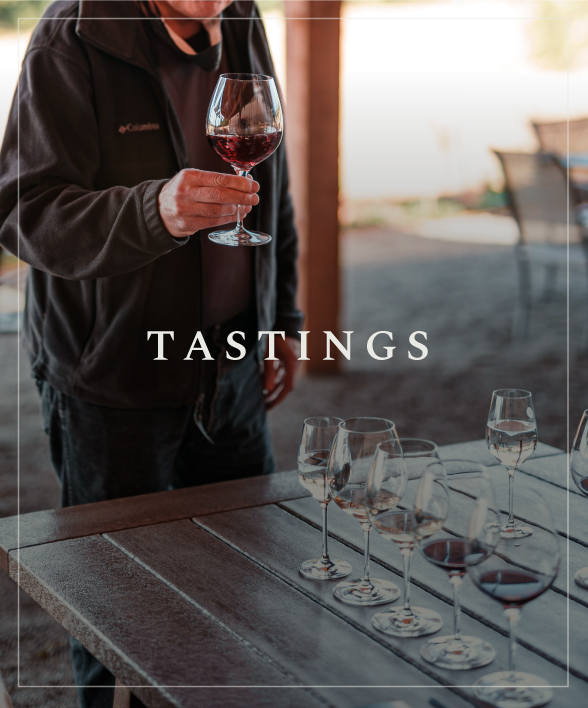 Please Join us at Winter's Hill
The tasting room is closed November 23-27, 2022.
At Winter's Hill Estate, you will often be greeted by one of the owners, usually Emily or Russell. Wine tastings are hosted on our covered patio overlooking the Oregon Coast Mountain Range.
The winery and tasting room are surrounded by a natural landscape of fields and forest. By using Native species to landscape the winery and tasting room, we provide additional habitat for wildlife and insects.
An Outdoor Wine Tasting Experience
At this time we have a few tables inside the winery for tastings. Dress appropriately for Cellar Temperatures.
We offer seated wine tastings on our covered patio by reservation. Dress appropriately for the weather for sitting outside. It is getting chilly, and if the wind is blowing it can be cold. Dress warm.

Schedule a Wine Tasting
For parties of 1-6
Appointments are required.
Each tasting flight is $30 and is waived with a $100 wine purchase or by joining the Cellar Door Club.
jcoco chocolate & wine pairing featuring ultra-premium chocolate bars that are made here in the Pacific Northwest. It is $15 and is good to split between two people.
No groups larger than 6. Children count toward the total number in your party.
5-6 person seatings are limited.
Picnics, dogs, and children are allowed.
Cellar Door Club Members: Your discount should automatically be applied in Tock when you book using your wine club email. If it is not then contact Paul@wintershillwine.com to receive your discount code for booking reservations.
For same-day appointments, call 503-864-4592.

Make a Group Reservation
For parties of 7-30
We offer a two-hour buy-out at either 11:00 am or 2:00 pm, or full day from 11:00 am-4:00 pm for your party.
Your tasting will include:
our extended flight with your own host
exclusive use of our entire covered patio
You may bring in outside food.
Contact paul@wintershillwine.com to inquire about availability and/or discuss special member pricing.
Pricing
Groups of 7-15
Cost per group is $2,000
$1,500 can be credited towards wine purchase.
Groups of 15-30
Cost per group is $4,000.
$3,000 can be credited towards wine purchase.

Full day buyout (Monday-Thursday Only)
Cost per group is $6,000.
$4,000 can be credited towards wine purchase.