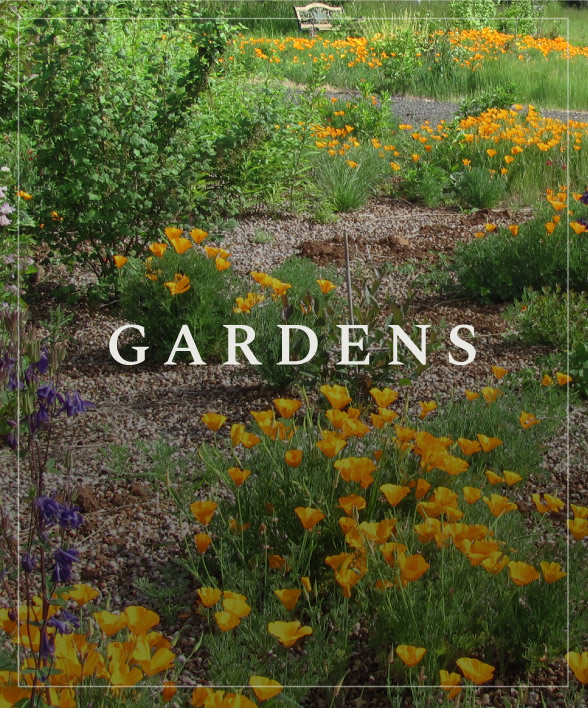 Native Gardens for Everyone's Benefit
Our winery gardens an oasis for wine lovers and wildlife at the top of the Dundee Hills.
As you drive down the winding gravel road to Winter's Hill Estate, you are entering a unique environment. At every season of the year, trees, bushes, and wildflowers create beauty and habitat for animals and pollinating insects such as butterflies and native bees.
From the construction of our road in 2004 to the present, Emily Gladhart has used native plants and trees to establish the gardens and landscape at Winter's Hill. Her careful selection of different species means that there is almost always something blooming on the property.
In addition, these native species are well adapted to the environment and rarely need supplemental water or fertilization.

Explore the Grounds
Guests are encouraged to explore the grounds, such as the small pond near the Tasting Patio.
Supplied with rainwater collected from the winery roofs, the pond is surrounded by plants such as the coastal strawberry and Oregon Grape.
The pond itself attracts many birds and invertebrates.  The pond also serves as a firefighting reservoir, although we hope we will never need it!

Stroll Through the Vineyards
Visitors wanting to see more are welcome to walk down to the vineyards.  The road skirts the edge of our restored Oak Savannah, a critical and rare habitat in the Willamette Valley.
Edges of habitat are the best places to see wildlife, and Bluebirds, Acorn Woodpeckers, Kestrels, and Coyotes are often seen moving between the Oak Savannah and the farm fields.
Wear sturdy shoes, and remember, the walk back is all uphill!