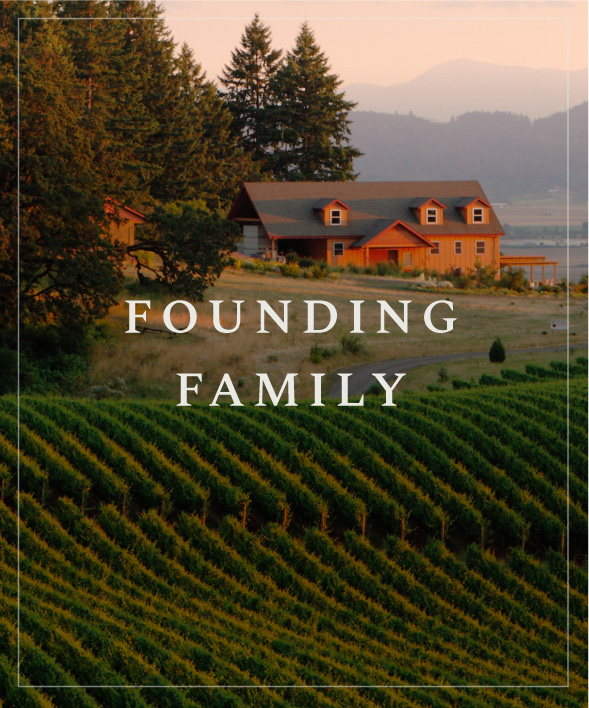 The Gladharts – Family and Farming Since 1961
Winter's Hill Estate is owned and operated by the Gladhart family. Today the third generation is developing the farm established in 1961. Together with our employees, we manage our vineyards, fields, and forests for the long-term benefit of our family and our community.
We are proud to share our wine and our land with our customers and visitors, and we look forward to your next visit.
Our Name Pays Homage to Our History
John and Lena Winter moved to Oregon in 1961, purchasing the orchards and farmland that would later become our vineyards.  When their daughter Emily and her husband Peter planted the first vineyards in 1990, they named it Winter's Hill in their honor.
John Winter was born Hans Viehweg in Hannover, Germany, and he and Lena immigrated to the United States in 1929, settling in Chicago.  Upon gaining citizenship, Hans changed his name, as was common at that time.  John and Lena built a business and raised a family in Chicago, but they loved the mountains, forests, and open spaces of the United States.
On summer vacations they would load the family car and drive across the country to visit the American West.  When their children were grown, they moved to Oregon to start a new life in the hills of the Willamette Valley.  We feel so fortunate that they did, and we are proud to carry on their legacy at Winter's Hill Estate.

Russell Gladhart
Winemaker
Russell was immediately captivated by the vineyard his parents planted when he was 18. He enjoyed working on the farm during his studies and after graduation. He went on to work for several vineyards and wineries in Oregon and New Zealand, always thinking about how what he was learning could be applied to the vineyard at home.
He and his wife Delphine met while working together at an Oregon winery, and the two of them went on to travel and work together in Oregon, New Zealand, and finally Delphine's home, France. Russell took the opportunity to study enology and viticulture at the Centre de Formation Professionnelle et de Promotion Agricole de Beaune in the heart of Burgundy.
In 2004 they married and moved back to Oregon, forming a partnership with Peter and Emily. Delphine made the wine until 2014 when she passed the reins on to Russell.  Russell enjoys the challenges, unpredictability, and ultimate rewards of working with family and running a small business.

Emily & Peter Gladhart
Founders
Peter and Emily met in Ecuador where both served as Peace Corp Volunteers. Neither imagined that twenty years later they would put academia aside to become grape farmers in the Willamette Valley, or that 20 years after that they would build a winery in the Dundee Hills. They probably wouldn't have except that the wheat and clover farm that Emily's parents had bought in 1961 turned out to be prime vineyard land.
The idea that they could plant a vineyard sparked their imagination and Peter started studying grape-growing. By 1990 they decided to give it a try. Peter took a leave of absence from Michigan State University, and they moved to Oregon. Taking great care to maximize their spectacular Dundee Hills site, Peter and Emily planned and planted their first 21 acres of vineyard. Six years later, when it was time to plant an additional 14 acres, their son Russell was there to help.
Initially, they planned to sell all their grapes to other wineries, but in 1998 they began making a small amount of Pinot Noir under their own label. In 2004 they invited Russell and Delphine to join them as partners, but they are far from retired.