Chicken Parmesan
Breaded chicken breast smothered in tomato sauce and cheese. Serve it by itself, or with a side of pasta.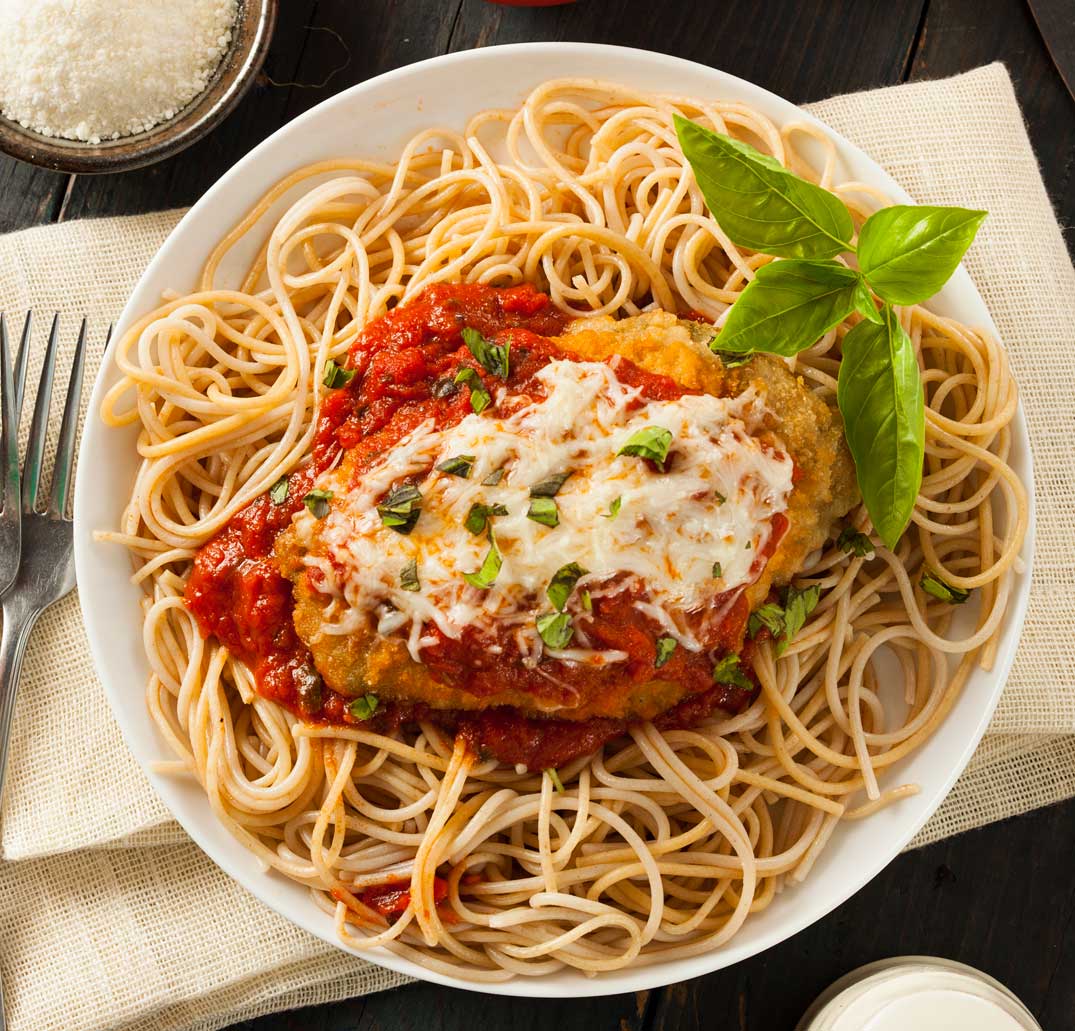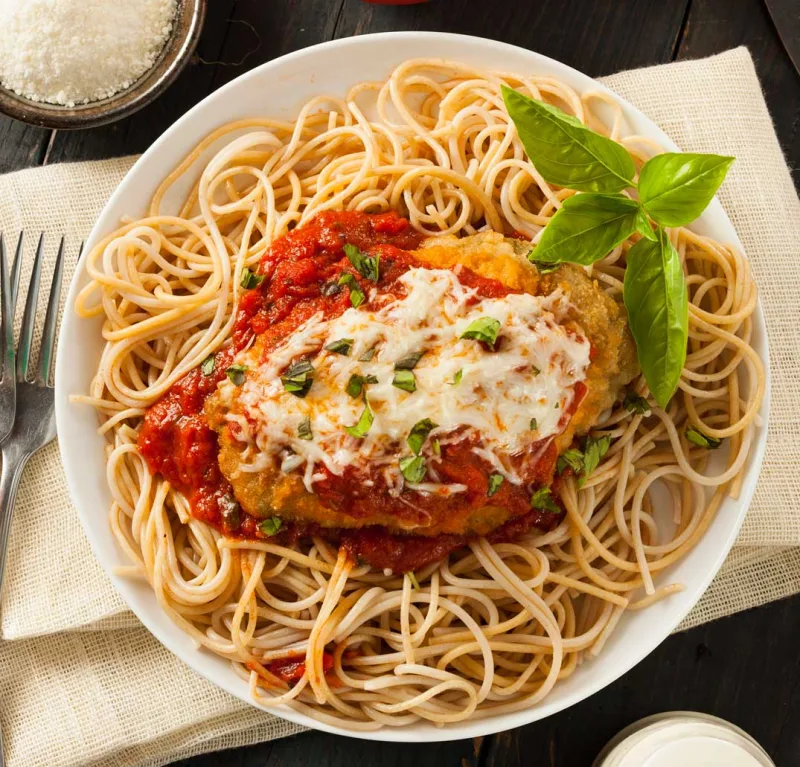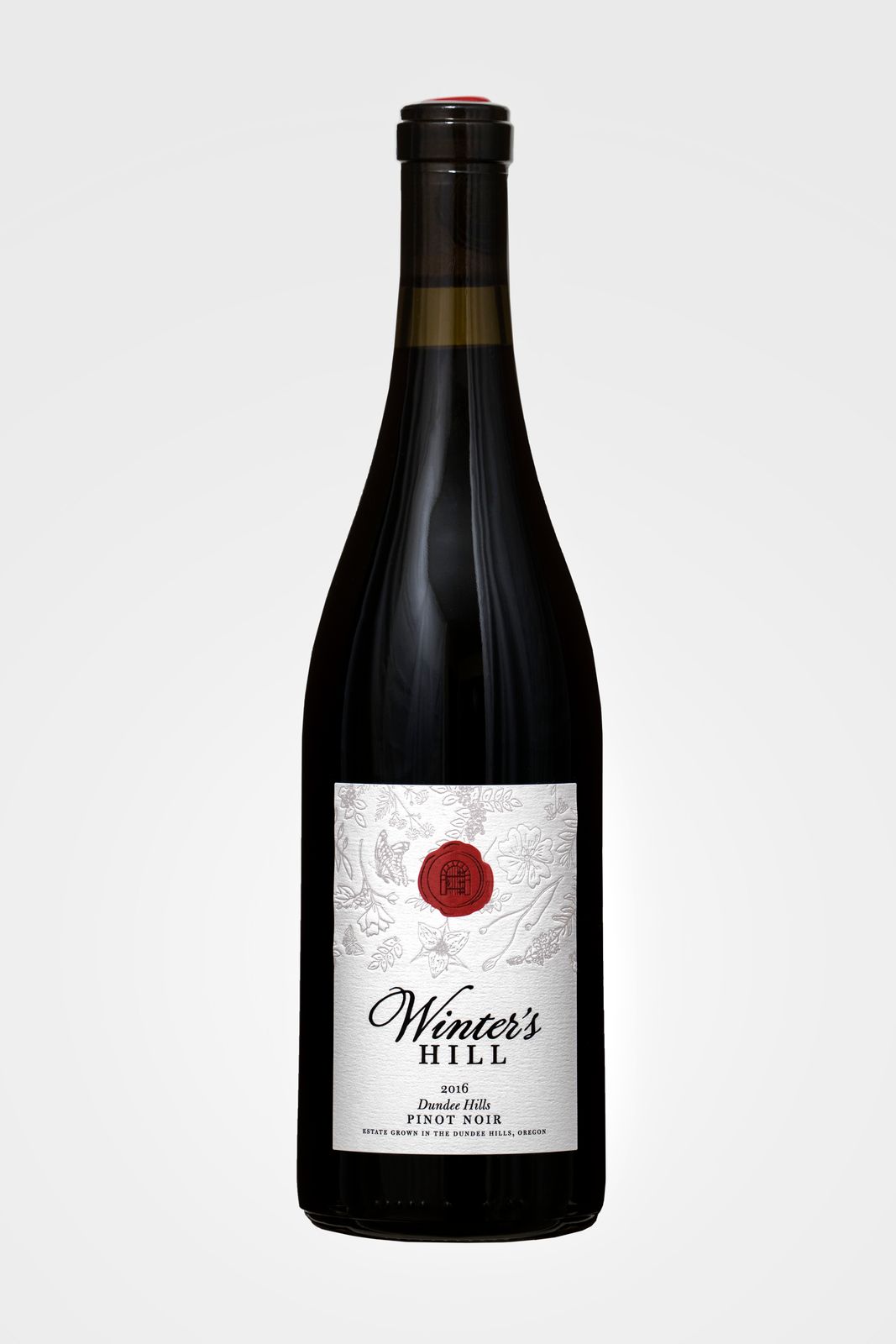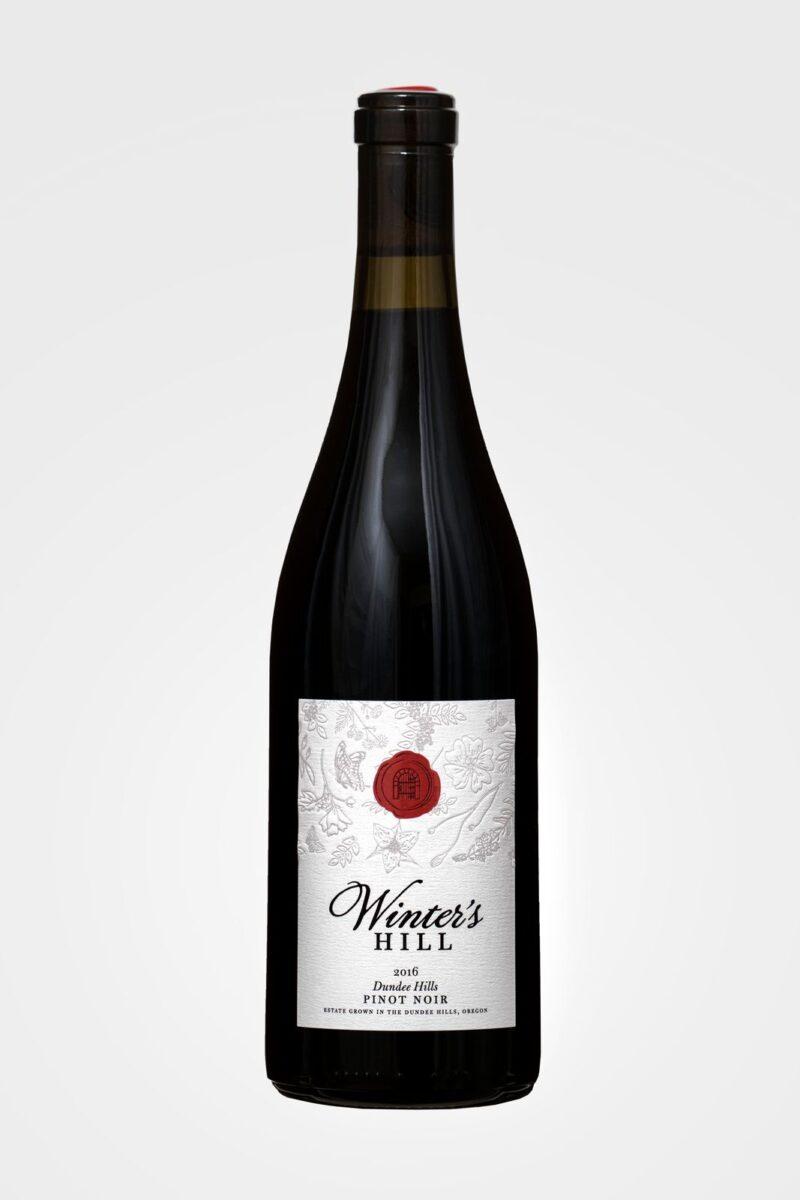 Chicken Parmesan
Serve with 2018 Pinot Noir Dundee Hills
Prep Time: 1 hour 15 minutes
Ingredients
4 boneless, skinless chicken breast pounded thin.
1 1/2 cup panko bread crumbs
1/2 tsp garlic powder
1/4 cup freshly grated Parmesan, plus more for garnish
4 large eggs, beaten with 2 tbsp. water
1/2 cup all-purpose flour
1 1/2 lb boneless skinless chicken cutlets
Kosher salt
Freshly ground black pepper
Vegetable oil 1 cup shredded mozzarella
Marinara
If you do not want to make marinara then you can buy 28-32 ounces in jars.
2 tbsp extra-virgin olive oil
1/2 small onion, finely chopped
4 cloves garlic, sliced 1
28 oz can crushed tomatoes
1/4 cup water
Kosher salt
Freshly ground black pepper
2 tbsp freshly chopped parsley, plus more for garnish
Directions
Preheat oven to 400º.
Make chicken: Prepare breading station with three large mixing bowls: one bowl with panko, garlic powder, and Parmesan mixed with a fork; another with the egg mixture; and the third bowl with flour.
Season chicken with salt and pepper, then coat each piece of chicken in flour and shake off excess.
Dip chicken into egg mixture and then into bread crumb mixture; repeat steps for remaining chicken and set aside on a plate.
In a deep cast-iron skillet over medium-high heat, add 1/4 inch oil.
When pan is hot but not smoking, add chicken. Cook until golden brown, 5 to 7 minutes, flipping halfway through.
Transfer to a paper towel–lined plate to drain.
Meanwhile, make marinara:
In a medium pot over medium heat, heat oil.
Add onion and garlic and cook until soft, 4 minutes.
Add in tomatoes and water, season with salt and pepper, and let simmer, 10 minutes.
Remove from heat and stir in parsley.
Pour sauce into a 9"x13" baking dish and place chicken in sauce.
Top with mozzarella and bake 10 minutes.
Garnish with parsley and serve immediately.