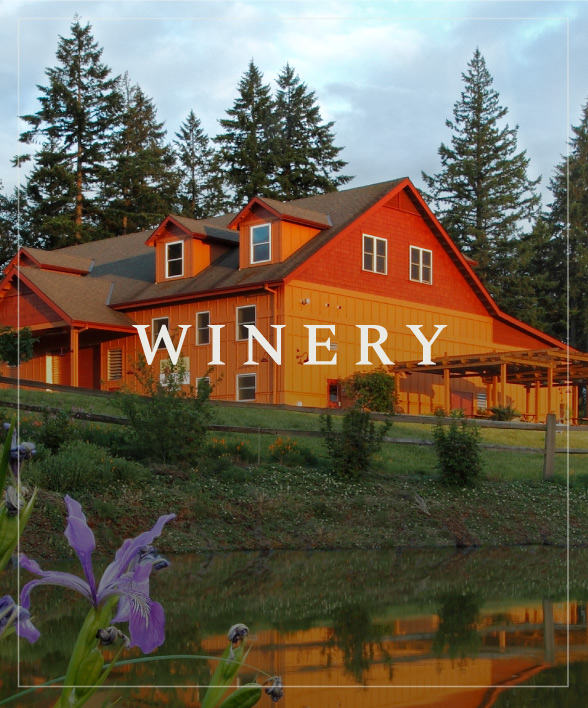 A Winery Built on Experience
The design of our winery is part of our terroir
The form and function of a winery can have a big impact on the quality of the wine, as well as on the quality of life of the winemakers who work in it! When planning our winery in 2008, Russell and Delphine drew on their experience working in many different wineries in Oregon, France, and New Zealand.
Some of our experiences were good, like the cool, insulated cellars at Lemelson Vineyards in Carlton. Others were not so great, like the glassy smooth floors of a Burgundian winery where we slipped and literally slid through the vintage.
But in the end, our winery is a beautiful and efficient space that we feel lucky to work in, and we think you can taste the results in your glass.

Visioning the Winery
To identify the winery's details, we first created a wish list, then prioritized them against the budget. During the design phase, we built a model from Legos on our living room floor to help visualize the space and workflow.
The result is a simple but efficient winery that helps us preserve and express all the delicate flavor and nuance that our fruit develops in the vineyard.

The Winery's Physical Structures
The winery is two levels, built into the hillside, which allows us to use gravity to transfer the fresh grapes into the press or fermentation tanks. Double insulated, 18 inch thick walls maintain even temperatures for the wine in winter and summer, while also reducing our use of energy.
An open floor plan with large doors gives us a flexible workspace, with good ventilation for health and safety.  Non-skid floors, with a gentle slope and good drains, help with the constant clean-up that is part of any winemaker's daily work.