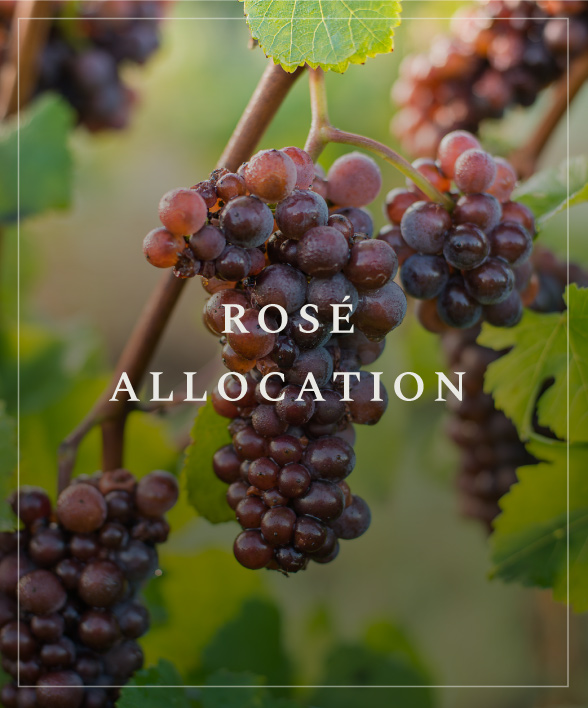 In Anticipation of Spring – Our Rosé Allocation
Winter's Hill Estate began producing and perfecting our Rosé of Pinot noir more than 20 years ago, and it has become one of our most anticipated releases each Spring.
It often sells out quickly, so we created our Rosé Allocation Club to ensure that our long-term fans and supporters are able to stock up early while it is still available.

Allocation Details
Members can select to receive 3, 6, or 12 bottles of Rosé each March when the wine is released. A majority are also members of our twice-a-year Cellar Door Club, but many choose just to receive the Rosé of Pinot noir.
Either way is fine with us, and all members receive the same benefits of complimentary tastings when visiting, and first priority on new releases and special offers.
One Shipment per year – March

Making our Rosé of Pinot noir
We use 100% Pinot noir from our estate vineyards, often from Block 10, the highest elevation section of our vineyard. Hand-picked in the early morning, we quickly transport it to the winery and gently remove the stems, releasing some of the juice in the process.
Once some of the berries are crushed, the skins begin to release their color and tannin into the juice. Depending on the vintage, we wait 6-24 hours before pressing the juice off of the skins, and beginning to ferment.
At this point the juice is a vivid hot pink, smelling of fresh strawberries and red plums. A slow, cool ferment in a stainless steel tank helps us preserve the wonderful aromas and freshness of the wine. As the wine reaches dryness, you can perceive the delicate tannins from the time the juice rested on the skins.
We know that many bottles of our Rosé are sipped on the patio, paired with good conversation. However, the flavor and structure of the wine also makes an excellent match for a wide range of dishes, including something spicy like fish tacos. Peter is always sure to save a bottle for Thanksgiving, as it is excellent with roast turkey.